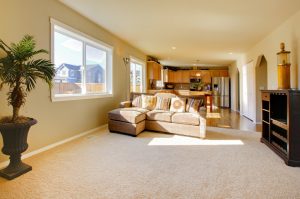 Staging one's home is crucial when you're selling it. Your home should look appealing to potential buyers, whether it's through pictures or home visits. Staging allows you to highlight the home's best assets to make it stand out.
Here are budget-friendly ways to successfully stage your home:
Paint your walls in neutral colors

When you repaint your walls, you give it a fresh new look. Doing this is inexpensive, especially if you do the repainting yourself. Just make sure to pick neutral colors like grey, beige, off-white, or "greige," which is gray and beige combined. Neutral colors give the buyer a blank canvas on which they can visualize themselves living in your home.

You don't need to repaint the whole house for this. Repainting the most important rooms in the house such as the kitchen, master bedroom, living room, and the bathrooms will make a huge difference. When potential buyers see that fresh coat of paint on your walls, it will immediately give them an impression of a cleaner and newer home.

Brighten up your home

Light is essential to any home. Adding more light, whether artificial or natural, automatically makes your home look cheerier and more spacious. It also puts people in a good mood and sets an uplifting ambiance to your home. Buy additional light bulbs to brighten dim areas in the house. Draw the curtains to let natural light stream through during daytime viewings.

Spruce up the kitchen and the bathrooms

Potential buyers automatically inspect the kitchen and the bathrooms because these are the areas that are used the most. The kitchen and the bathrooms should look clean and spotless. Give your kitchen a good cleaning and add touches like fresh flowers to spruce it up. Scrub down your bathrooms and remove personal care items such as toothbrushes, shavers, and the like.

Store all clutter and personal items

Another way to stage your home without spending too much is by getting rid of stuff. Clear the home of clutter and put personal items in storage. Allow buyers to focus on the key features of your home without the distraction of family photos, dog toys, souvenirs, and unusual décor and tabletop accessories.

Empty closets and cabinets

When potential buyers start paying visits to your home, they will be opening your closets and cabinets. You'll need to empty half of your cabinets, drawers, and closets because buyers need to see all the possible storage spaces in your home.

Have your home thoroughly cleaned

Have your home cleaned from the inside out to ensure that it's spotless during visits. Important rooms that should be cleaned are the kitchen, master bedroom, and bathrooms. Check for molding and dust issues, and look into neglected areas so that you can get to fix things before they're spotted by potential buyers.

Mind your curb appeal

Curb appeal is very important because it gives potential buyers the first impression of your home. You can spruce up the exterior of your house by planting more flowers, pulling out the weeds, mowing the lawn, and replacing the bald patches of your lawn with grass turf.

Make your home smell good

A home that smells good also makes an impact on potential buyers. Fresh flowers or a lightly scented candle gives a wonderful scent to your home. It also creates a welcoming mood.
If you're selling your home in Hays, Ellis, Victoria, Plainville, and Lacrosse KS, contact our team of real estate experts. You can also call 785-621-4663 and follow us on Facebook.