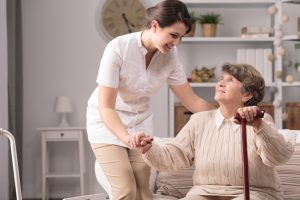 It can be a challenge to find the right assisted living community for your loved one. The community should fit perfectly and complement your loved one's needs, along with having an excellent location and superb features.
Here's a checklist to help you out:
Check the location

How far away is the assisted living community to your own home? Location matters if you intend to drive for visits or in case you need to be there during emergencies. Is the assisted living community situated in a safe and secure neighborhood? The security of the surroundings will give you and your loved one peace of mind.

Also, check if there are any nearby malls, parks, and hospitals. Parks and malls would make a great place for your loved ones to take an afternoon stroll in while a nearby hospital ensures that your loved one gets immediate treatment in case of an emergency.

Explore the community

Walk around and observe what goes on within the facility. Look into the overall cleanliness and maintenance of the place, and the daily routines they follow. Check the surrounding neighborhood as well. Since this community might become your loved one's new home, make sure that it's in top shape.

Observe the staff

The kindness and attitude of the staff are important in an assisted living community. You want your loved one in a caring environment. When you check out the facilities, observe the staff and how they treat their residents.

Look into their programs and activities

Assisted living communities offer different kinds of care, ranging from in-home care to senior living apartments. They also offer various activities that improve social interaction, physical strength, and mental strength among their senior residents. Knowing your options allows you to choose a program that is suitable for your loved one.

Try their food

Check out the menu and sample the food of the assisted living communities you're eyeing. You want your loved one served meals that are nutritious, healthy, and of high quality. You should also inquire about special food requests and whether they can adjust meals to fit individual dietary requirements.

Inquire about personal care

Ask the assisted living community about their policy on personal care requirements. It's important to know if and how the community will be helping your loved one with their daily bathing, dressing, and grooming needs.

Gather feedback and read past reviews

After personally walking through and observing the assisted living community, do a bit more research. Look for online reviews or ask past and present residents about their stay. Getting feedback gives you a better idea as to how the community operates and takes care of its residents. You can also check out Caring.com, an online database for all the assisted living communities and facilities in the United States.
Hays, Kansas has some of the best assisted living communities in the area. If you're looking for a new home in this unbelievable town, call Platinum Group Hays at (785) 621-4663 or send an email to info(at)platinumgrouphays(dotted)com.